I am a historian of early Christianity and religious cultures of late antiquity. I have taught at the University of California, Riverside; Scripps College; Harvard Divinity School; and Boston University. As of June 1, 2019, I am a Senior Fellow at the Center for the Study of World Religions at Harvard Divinity School. On this site you can find information about my publications, teaching, and ongoing research.
You can contact me at: andrew [at] andrewjacobs [dot] org

You can find me on Twitter: @drewjakeprof

You can find me at the Humanities Commons: https://hcommons.org/members/drewjake/

PUBLICATIONS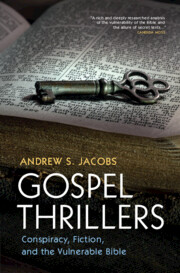 New! Gospel Thrillers: Conspiracy, Fiction, and the Vulnerable Bible (Cambridge University Press, 2023) (preorder link); and visit the companion website here.

The Garb of Being: Embodiment and the Pursuit of Holiness in Late Ancient Christianity, co-edited with Georgia Frank and Susan R. Holman (Fordham University Press, 2019) (purchase link)
Epiphanius of Cyprus: A Cultural Biography of Late Antiquity, Christianity in Late Antiquity (University of California Press, 2016) (purchase link)
WINNER: 2017 Philip Schaff Prize from the American Society of Church History
Christ Circumcised: A Study in Early Christian History and Difference
, Divinations (University of Pennsylvania Press, 2012) (purchase link)


Remains of the Jews: The Holy Land and Christian Empire in Late Antiquity
, Divinations (Stanford University Press, 2004) (purchase link)


Christianity in Late Antiquity, 300-450 CE: A Reader,
co-edited with Bart D. Ehrman (Oxford University Press, 2003) (purchase link)

The Passion of Perpetua and Felicitas in Late Antiquity, ed. L. Stephanie Cobb with translations by L. Stephanie Cobb and Andrew S. Jacobs (University of California Press, 2021) (purchase link)

For other works, click on the Humanities Commons link above; for my complete curriculum vitae, click here.
CURRENT RESEARCH
Ex-Jews: Conversion in Late Antiquity
This study explores narratives of Jews converting to Christianity in the first seven Christian centuries to ask how and why "conversion" becomes a distinctive way of understanding religious identities and boundaries, for ancients and for modern scholars. Engaging with a variety of literary and social genres—law, hagiography, history, dialogues, sermons, and letters—this book argues that particular shifts in the way the human person came to be defined—in terms of the will, the self, and the very notion of "identity"—made possible something called "religion" as a discrete and bounded category, maintained and policed through narratives of conversion. In the context of a Christian Roman empire, the conversion of Jews became a paradigmatic site for imagining these new ways of being.

The Life of Thecla: Apocryphal Expansion in the Fifth Century

In the late fifth century, an anonymous man of letters working at the shrine of Hagia Thekla wrote a two-volume work dedicated to Saint Thecla, the legendary companion of Saint Paul: the Life and Miracles of Thecla. In this translation and introduction to the Life, I outline the literary contours of this peculiar expansion of the much more famous Acts of Thecla as a window into how Christian apocryphal texts continued to be read and reimagined in late antiquity. This volume is scheduled to appear in the Early Christian Apocrypha series of the North American Society for the Study of Christian Apocryphal Literature. 
Elements: Religion in Late Antiquity (editor)

This series from Cambridge University Press takes a holistic and comparative approach to what is typically categorized as "religion" in roughly 100-800 C.E. throughout the Mediterranean and Near East.  Individual volumes, ca. 20,000 – 30,000 words in length, will address one of three major categories of topics: Frameworks (modern and ancient); Sources (texts, objects, and spaces); and People (authorities and outsiders). They will serve as points of entry on an array of topics for students and scholars of late ancient religious worlds at all levels. Ideally, they will also advance the higher-order questions and debates that have emerged from the broadening of horizons in the study of late antiquity in recent years. Volumes will aim to identify the particular themes that characterize religion in late antiquity and will often cross traditional disciplinary lines. The series will, thus, be composed of contributions from classical studies, Early Christianity, Judaism, and Islam, among other fields. Collaborative volumes by scholars who work in different fields are therefore especially encouraged. Published online and available as print-on-demand paperbacks, the series can accommodate graphic elements such as images, charts, and tables.


Translations
You can also find on this website a series of translations of Greek and Latin texts I have found useful in my teaching and research. Click here to find texts about pilgrimage, ritual, conversion, and embodiment.
TEACHING
For more than twenty years I have taught a variety of courses at the undergraduate and graduate level. Because I believe that university instruction is a collaborative endeavor, I make all of my course syllabi publicly available. I encourage all to browse, borrow, and make what use you can of my instructional efforts.

A catalogue of my past courses is available here.
ASSOCIATIONS

I coordinate two professional meetings focused on new scholarship in early Christianity and late antiquity. If you are interested in attending either meeting, or being put on the email list to be kept apprised of meetings and topics, please contact me: andrew [at] andrewjacobs [dot] org.
Boston Area Patristics Group (Patristica Bostoniensia). Founded in the 1970s to give Boston-area scholars the opportunity share and discuss new works-in-progress, meets monthly during the academic year. Local scholars at all career stages, as well as those temporarily in the area for various reasons, are warmly welcomed.
Models of Piety in Late Antiquity. Founded in the 1990s as part of the Institute for Antiquity and Christianity at the Claremont Graduate University, Models of Piety is now an independent, annual meeting of scholars dedicated to the exploration of late ancient religious life. We meet in conjunction with the annual meeting of the Society of Biblical Literature/American Academy of Religion to discuss primary sources, works-in-progress, and recent publications led by new volunteers every year.
background image: Paris Coislin 299, Doctrina Jacobi Nuper Baptizati incipit